---

---
How to contact RCMG
Renard Centre of Marine Geology
Department of Geology and Soil Science
Geological Institute
Ghent University
Krijgslaan 281 s.8
B-9000 Gent
Belgium
Tel: +32-9-264.45.94
Fax: +32-9-264.49.67
---
How to reach RCMG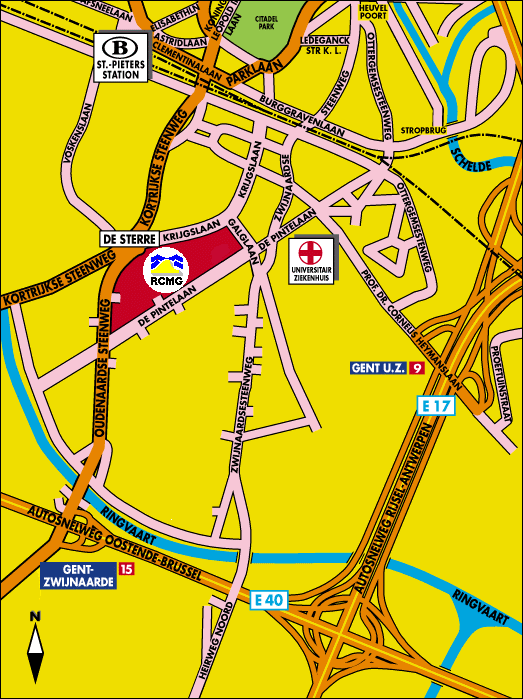 By car
Via the E40 highway Brussels-Ostend

As exit 15 (Gent-Zwijnaarde) is currently closed, it is best to leave the E40 and to take the E17 in the direction of Antwerp.

Via the E-17 highway Antwerp-Lille

You can leave the highway at Gent U.Z., exit 9. Follow direction Universitair Ziekenhuis as far as the traffic lights. Turn left and follow the De Pintelaan. Drive past the traffic lights until the next crossing. Turn right on the Galglaan. At the first traffic lights at the end of the Galglaan and at the crossing with the Krijgslaan, there is an entrance to the campus (main gate) on the left side. Building S8 (Geologisch Instituut), where the RCMG is located, is the seventh on your left, just after two bends in the road.
By train and public transport
Get off the train at 'St-Pietersstation'. In front of the station (at your left) you will find the bus terminal. The tramway terminal is a little further to the left in the tram tunnel underneath the railroad. There are several ways to reach the Geological Insitute (on the "Sterre" science campus) by bus or tramway.
Bus lines 76-77 (direction of De Pinte or Deinze). Get off at bus stop "Sterre" on the Kortrijksesteenweg. The entrance to the campus is towards the right from the Shell station.
Bus lines 70-71 (direction of Oudenaarde or Zwijnaarde). Get off at bus stop "Sterre" on the Oudenaardsesteenweg. The entrance to the campus is just across the street.
Tramway lines 21-22 (direction of Zwijnaarde). Get off at tramway stop "Krijgslaan" at the corner of the Krijgslaan. The entrance to the campus is on the opposite side of the Krijgslaan, on the corner with the Galglaan. From the entrance it is another 5 min walk to the Geological Institute.
During weekends or outside office hours (07:00-19:00), the only entry to the campus is via the main gate at the corner of the Krijgslaan and the Galglaan. In that case it is best to take the tramway from the station.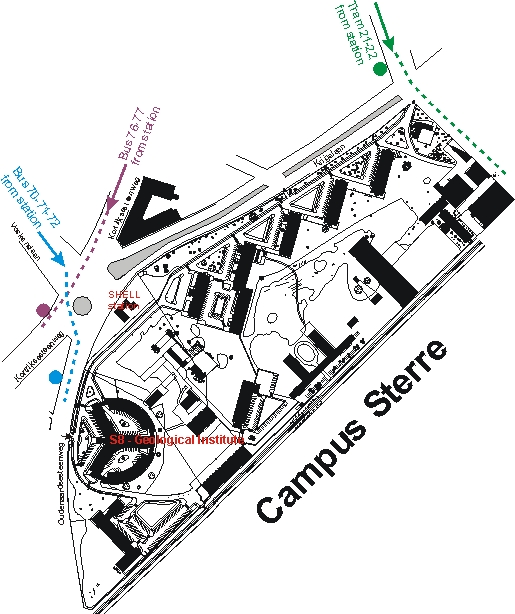 ---
marc.debatist@UGent.be